Tamil people preparing for war: Sri Lankan rebel commander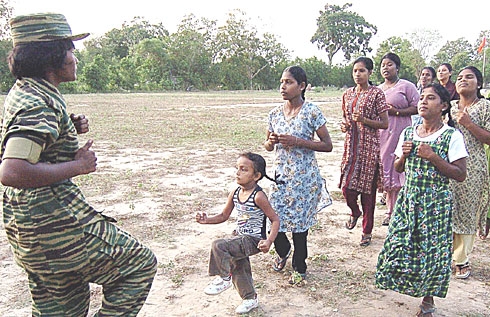 How LTTE Tamil Terrorist train children for their BABY BRIGADE
25 May 2006
COLOMBO -The Tamil people are preparing for war and nobody can defeat them, a top Sri Lankan rebel military commander was quoted as saying on Thursday.

Colonel Jeyam, of the Liberation Tigers of Tamil Eelam (LTTE), was quoted by the pro-rebel Tamilnet.com website at a memorial ceremony for another senior rebel commander who was gunned down on the weekend.
The Tamil Tigers blamed government forces for the killing of Colonel Ramanan, deputy commander for eastern Batticaloa district.
Government military officials denied security forces were involved and said they suspected a breakaway rebel faction may have been responsible.
The rebels have said Ramanan's killing was intended to drag the Tigers into "major war", further raising tension on the island where mounting violence is undermining a four-year-old ceasefire.
"I can see the people of Tamil Eelam getting ready for the war. We know where we should stand -- on the power of our people's support, the guidance of our leader, on the sacrifices we have made for freedom in our own territory," said Jeyam, identified as a top LTTE commander.
"Nobody can defeat us now when the Tamil people have resolved to decide our own destiny," he said, adding, "our enemies are wrong in assuming that they can weaken us."
The Tigers are fighting for a homeland for minority Tamils in a conflict that has cost more than 60,000 lives since 1972.
Tiger justice! -Husband and wife executed by LTTE pistol gang for not attending the civilian military training program
The Daily Mirror-25-05-06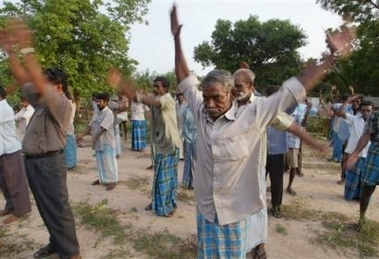 An LTTE pistol gang has reportedly executed a husband and wife publicly in the Mullaitivu town on Tuesday for not attending the civilian military training program held a few days ago in an LTTE camp, civilian sources said.
Early this week, all civilians except children under 6 in a village near Mullaitivu were reportedly ordered to report to an LTTE camp at Mullaitivu to attend a civilian military training programme. Most of the villagers had reportedly turned up out of fear.
However, a husband and a wife aged 46 and 41 respectively, had gone into hiding to avoid attending the training session.
Having come to know that a couple was missing, LTTE cadres had reportedly captured them and brought them to the centre of the Mullaitivu town where they were shot dead, after an announcement was made that this was the fate awaiting all who defied LTTE orders, the sources said.
During the training session nearly 30 elderly persons were reportedly injured and admitted to the Mullaitivu hospital.
In the recent past, the LTTE has intensified military training for villagers in case hostilities break out again.

LTTE FORCE RECRUTMENTS
R. Halpita -Awissawella, Sri Lanka
The LTTE has openly claimed that they would start the war in the northern part of Sri Lanka. These pictures above carried the heading "LTTE is training the civilians". But if one looks carefully, it is quite clear that these are not people who have voluntarily come forward nor are they physically fit or healthy to undergo these exercises. The old, feeble and the females are forced to undergo physical exercises and to participate in military training. They do not wear suitable attire for training and are made to do these activities in their normal clothes, whatever they were wearing the time they were called in. This is a gross violation of human freedom and rights. It appears that theses innocent civilians are given military training by the LTTE with a very inhuman ulterior motive. This group of people is also made to appear distinctly different from the usual tiger fighting carder with a sinister reason.
1. They can make up the numbers for the LTTE
2. These forcefully recruited innocent civilians could be sent to the battle front to face an onslaught as human shields
3. When these people are dead in combat, could make a huge cry interpreting this as civilian casualties and get the international sympathy.

This is a very serious situation where the International Human Rights Organizations should seriously consider and stop the LTTE using these civilians to fulfill their murderous ambitions