UNHCR Sacks for Terrorists
Ministry of Defence, Public Security, Law & Order of Sri Lanka

Troops of the Army fully committed to liberate Thoppigala, the last eastern bastion of the LTTE terrorists are inching forward removing hundreds of anti-personnel mines buried by fleeing terrorists.
As a result of the thrusting movement of the heroic members of the Armed Forces, LTTE terrorists now in disarray appeared to have run amok and vanished further into the interior fearing that troops would capture them at any moment of the day.
Infantry men supported by Engineer troops in the weekend came across a number of LTTE's destroyed bunkers, public buildings, vehicles and many other items. It is clear that terrorists while vacating those areas had vandalized almost everything within their reach as the photos in this story depict.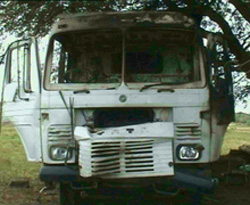 Strangely enough, polythene sacks with UNHCR emblem in which dry rations to the Internally Displaced Persons (IDP) contained have been used by the LTTE to cover up their bunkers.
Another tipper lorry, one motorbike, two buildings along with several bunkers have been torched as the troops advanced. It is now confirmed that one of those buildings has been used as a Police Station and one LTTE administration centre.
Paying scant regard to the civilians Tiger terrorists had also blown up a bridge that connected Karadiyanaru with Thoppigala road and steps are being taken by Engineer troops to restore the bridge.
Troops also collected a large stock of arms, ammunition and various explosives abandoned by withdrawing Tigers.
Courtesy - army.lk